How To Get A Job After Graduation in India
Kriti Pahuja
|
Sep 5, 2022
|
5 minutes read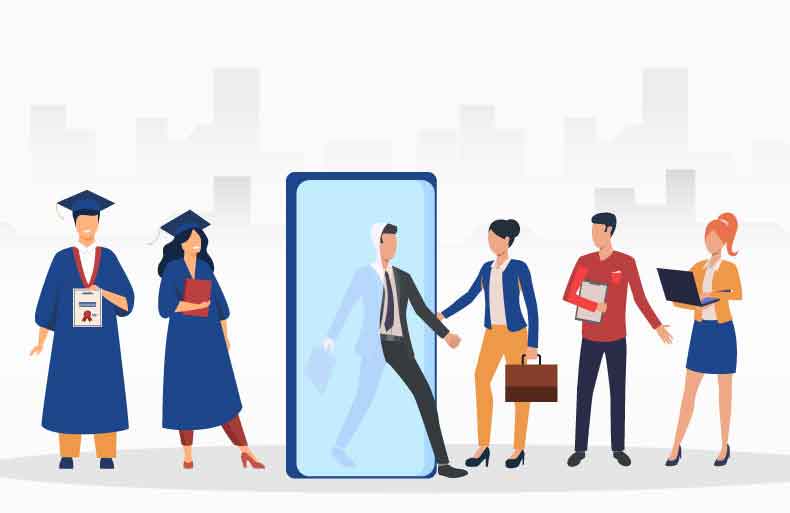 Finding the right job after graduation in India is like finding a needle in a haystack. While most students want to land a high-paying job as soon as they graduate, it's a lot easier said than done. From choosing the right career path to acquiring the skills and eventually getting the job you like, the entire process can be challenging, and time-consuming.
And let's not forget about the multiple rounds of tests and interviews.
So to lend you a helping hand, we'll discuss in detail how you can get an IT job after graduation, and hone your skills to stand out from the crowd.
Tips to Get an IT Job in India After Graduation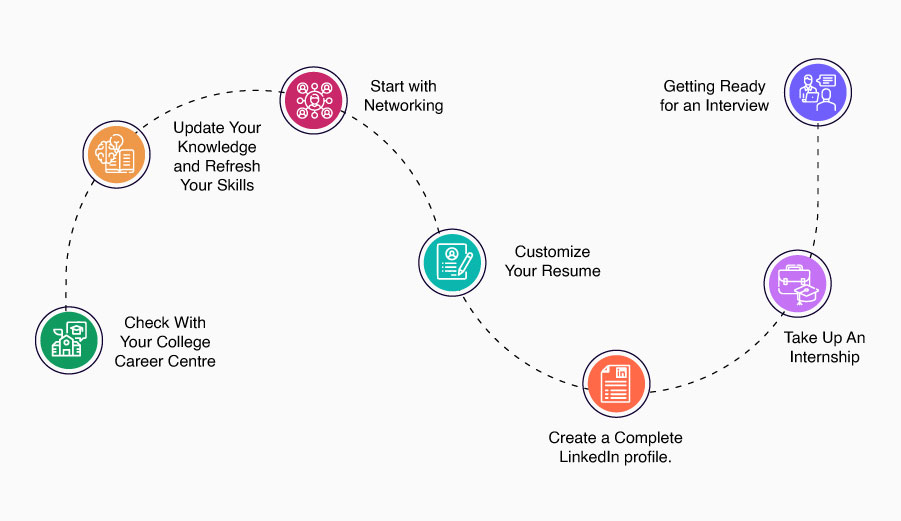 Check With Your College Career Centre

Most colleges have a career center or a placement cell that can assist you with your professional goals. You can start using these resources as early as you start college. Moreover, if you're unsure of your career choice, you can choose to get career counseling.

Not only can your career counselors help you design your career path but also with your job search strategy, interview preparation, and resume building.

What's more, your placement cell will also arrange career fairs, invite recruiters to campus, and support alumni networking programs provided you attend a reputable college. All of these activities can aid in getting you hired.

Update Your Knowledge and Refresh Your Skills

Your knowledge and skills play a crucial role in ensuring you get the job you want. Professional development is a great way to stand out from other candidates and improve your chances of getting shortlisted.

Moreover, having more than basic knowledge and skills in your field show employers that you are well-informed and dedicated.

Thus, enrolling in a few courses or keeping abreast of the latest trends in the industry will help you learn, develop, and update your abilities.

You can also consider doing an internship to gain some experience. Numerous businesses provide internships, either with or without a monthly stipend. For additional information, read the internship testimonies at SkillStone.

However, regardless of your prior work experience, an internship is a terrific option to pick up some new skills and develop some industry knowledge.

Start with Networking

Making new connections through networking can increase your chances of receiving employment offers. These connections serve as reliable recommendations to assist your new job applications and boost the visibility of your resume.

Networking enables access to the untapped labour market. According to statistics, 80 percent of jobs never receive an advertisement or are posted on job portals. Networking makes it easier to locate and apply for these jobs. According to a poll conducted by LinkedIn, networking accounts for 85% of all job acquisitions.

Attending business networking events and staying in touch with your alumni association are great ways of making some valuable connections. You can also try making professional connections on online communities like LinkedIn.

Customize Your Resume

A resume is a vital tool in the job search. While it cannot get you a job, it improves your chances of getting an interview. As a matter of fact, without a resume, you can't even begin to compete. And that's not it, even a simple resume will quickly remove you from the race before you even have a fighting chance.

So you need to ensure that your resume has everything that the employer needs and is looking for. One way to rise above the competition is to load your resume with employer benefits, not just skills

Here are some pointers for writing an eye-catching resume.

Use a resume template that looks visually appealing

Mention your skills and abilities. Additionally, you can highlight your accolades, achievements, certificates, and the technology you are proficient in. Don't forget to add a link to your LinkedIn profile. However, make sure your LinkedIn Profile is well-maintained and showcases your potential.

Include all other references, such as websites or projects you participated in.

To stand out, use content types other than text or images, such as video. For instance, if you have enticing video content that might highlight your skills, upload the film on a website like YouTube and include a link to it in your resume.

Put your professional experience in chronological order, with the most recent at the top.

Include information about your academic background, achievements, and grades.

To know how you can write an impressive resume, read this blog post.

Create a Complete LinkedIn profile.

LinkedIn is an amazing platform to get assistance with professional branding, job searching, employment opportunities, etc. The majority of employers use LinkedIn to identify potential candidates to hire for their team.

Thus, you need to have a LinkedIn profile to increase exposure, build a professional brand, and prove to employers that you are a dedicated and hard-working candidate.

Take Up An Internship

The National Association of Colleges and Employers (NACE) reported that 60% of paid internships result in full-time employment. An internship is a means to broaden your experience and obtain practical expertise.

With relevant industry experience from an internship, your resume will stand out and improve your chances of getting a job with a better salary.

Getting Ready for an Interview

The next step is to ace the interview if your CV is shortlisted. The most important thing to getting a job is to ensure that you are absolutely prepared for the interview. By preparing, you will feel confident and collected, and in control.
Closing Thoughts
Job hunting is no easy feat. However, if you know what to expect, and how to prepare yourself for it, you can make the process is little less challenging.
If you have any questions about developing a career in IT, please feel free to contact our experts at support@skillstone.in, and we'll take it from there.
Previous post
September 5, 2022