How to write a resume for your first IT job?
Kriti Pahuja
|
Jul 19, 2022
|
6 minutes read
When setting out to find your first job, step one is to write an impressive resume with no experience. Amid a pool of talent that applies for a job, your resume is what will speak for you to the hiring manager first.
Having an impressive resume will not only get you shortlisted for the interview but also give you an edge over other candidates.
But where do you even start?
And most importantly - how do you create a great resume with no experience at all?
Don't fret, we're here to help!
In this blog post, we will be sharing with you some quick tips on how to write a resume for your first IT job.
What An IT Resume Must Have- The 5 Critical Sections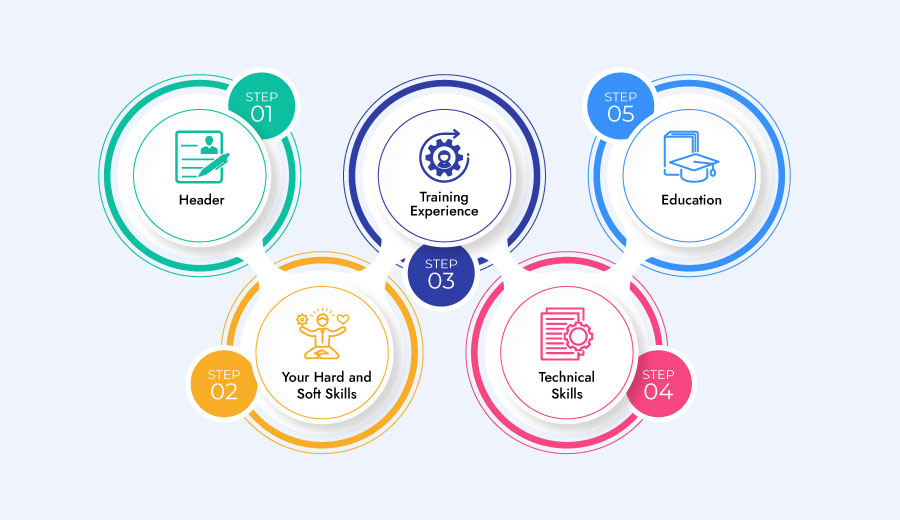 Before you begin writing a resume, it's crucial to understand the five basic sections of the resume:
Header
Your name
Your phone number
A professional email address
Links to your LinkedIn profile, personal website, or portfolios (if applicable)
Your Hard and Soft Skills
A two-to-five sentence introduction to your resume
A mention of your most impressive professional accomplishments
Your most relevant hard and soft skills
Training Experience
Any and all certifications you've attained through training
Dates and tenures of all training projects
Depending on the resume format you choose, a brief list of accomplishments and responsibilities
Technical Skills
A mix of all technical skills that relate to the role
Education
Full name of the school you attended during 10th and 12th
Date (or expected date) of completion
Type and title of your degrees and/or certifications
Any education-related awards or distinguishing accomplishments
Steps For Writing a Resume
Pick the Right Resume Format & Layout
Mention Your Personal Details & Contact Information
Use a Resume Summary or Objective
List Your Work Experience & Achievements
Mention Your Top Soft & Hard Skills
(Optional) Include Additional Resume Sections - Languages, Hobbies, etc.
Tailor Your Information For the Job Ad
Proofread Your Resume and Cover Letter
How to Pick the Right Resume Format?
There are three ways you can write your resume- reverse chronological, skills-based/functional, or a combination of both. Your choice depends entirely on the kind of job you're applying to and your corresponding level of experience in the field.
The Three Formats Explained
Reverse chronological resume format -

The reverse chronological resume format is ideal for anyone with diverse work experience. It is one of the most popular resume formats. In the reverse-chronological format, you begin by listing your most recent experience first. Following the same order, continue with the most recent to the least recent.

Functional/skills-based resume format –

For freshers in the field, a skills-based resume is a great choice since there is a lack of work experience to showcase. This format helps employers understand your potential areas of expertise.

Combination resume format –

For job-seekers with a diverse skill-set, this format works perfectly well. For a role that requires expertise across domains, this format enables you to showcase your skills and experience all in one place.
Resume Layout Must-Haves
One-Pager :

Ideally, HRs are quick to skim through resumes that are short and crisp. For a more detailed insight into your profile, a CV is an elaborate representation.

Go for two pages only if you really, really believe that it'll add significant value. With HR managers in big firms receiving 1000+ resumes a month, it is easier for them to quickly skim through a single-page resume.

Clear and Concise Section Headings:

Headings make reading quicker. Pick a heading style (H2-H3 are the most appropriate) and use it across all section headers.

Add White Space :

White space adds to the appearance and readability of the resume. Use ample white space, especially around the margins.

Easy-to-read Font :

While there are so many fonts to choose from and you probably have a favourite already, it's best to stick with a font that looks professional such as Roboto, Ubuntu, Trebuchet, Overpass.

Pick The Right Font Size :

As a rule of thumb, go for 11 - 12 pt for normal text, and 14 - 16 pt for section titles.

Save Your PDF :

It is often recommended to save your resume in a .PDF format. Even though Word is a convenient alternative, there is a high possibility that the formatting messes up with different resolutions. Converting to pdf locks elements where you place them.
How to Fill Those Pages With No Experience at All?
When writing a resume, it can be rather nerve-wracking if there is no real experience to showcase. Most advice online states that you focus on your professional experience, which becomes irrelevant for fresh graduates or people with no experience at all.
When you're straight out of college, chances are there is no concrete experience to speak of.
It can be stressful figuring out where to start, what to include, and what format to write in.
The easiest way to fix it is by using the reverse-chronological structure. This will primarily include 4 sections:
Header: Contact Information and Resume Statement
Education
Internships, extracurricular activities, projects, volunteer work (These sections will replace your work experience)
Skills
Writing The Resume Statement/Objective
The resume statement/objective is the crux of your resume that is included at the top. This one/two-liner introduces your resume to the hiring manager.
A quick formula to help you write your resume objective

The Big No's
Don't use an inappropriate email address
Don't use a complicated resume template
Don't use passive voice
Don't mislead employers about your skills
Don't write anything negative about your former employers
Don't use personal pronouns
Don't make general statements that don't highlight your actual accomplishments
Adding That Extra Edge:
Your resume gives the employers a preview of your professional profile. While there are things you should remember before going to an IT interview, eLearning courses today are a big help when it comes to adding professional skills to your resume. At SkillStone, too, these courses help you bridge the gap between what you study in college and what companies are looking for.
Give your resume an edge with self-paced eLearning courses at SkillStone and get noticed by employers globally.
For any queries, please feel free to reach out to us at support@skillstone.in and we'll take it from there.
Previous post
July 19, 2022