Top 5 High-Paying Jobs in Salesforce Technology
Kriti Pahuja
|
Sep 6, 2022
|
5 minutes read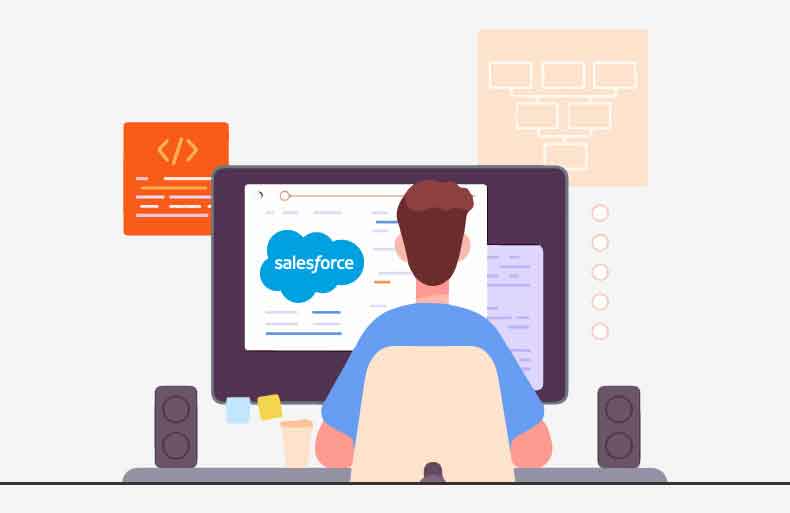 With more of your friends and folks taking up courses and jobs in Salesforce technology, it's time you taste the coffee yourself. If you are exploring a career in technology, you might have already come across Salesforce.
Salesforce is an industry leader in cloud computing and has multiple Software as a Service (SaaS) and platform as a service (PaaS) products. Salesforce has become a go-to platform for businesses looking to develop products around customer needs.
In this blog post, we'll talk about what salesforce is, what a career in salesforce looks like, and the 5 highest paying jobs in Salesforce technology.
What is Salesforce?
Popularly known as Software as a Service(SaaS) cloud computing company, Salesforce specializes in Customer Relationship Management (CRM). Salesforce is currently dominating 20% of the market.
Salesforce makes cloud-based software designed to support businesses in finding more prospects, sealing more deals, and delivering better customer service. Salesforce has simplified the way teams work. Its complete suite of products, Customer 360, provides marketing, sales, service, IT, and commerce teams with a holistic view of customers, enabling businesses to improve relationships with their customers and employees alike.
With more and more companies realizing the importance of integrating a CRM, their dependency on Salesforce products has increased significantly.
In fact, from small businesses to FORTUNE 500** companies, more than 150,000 businesses are using the Salesforce cloud platform.
This means there is a huge opportunity to pursue a career in the most dominating industries out there.
Top 5 High Paying Jobs In Salesforce Technology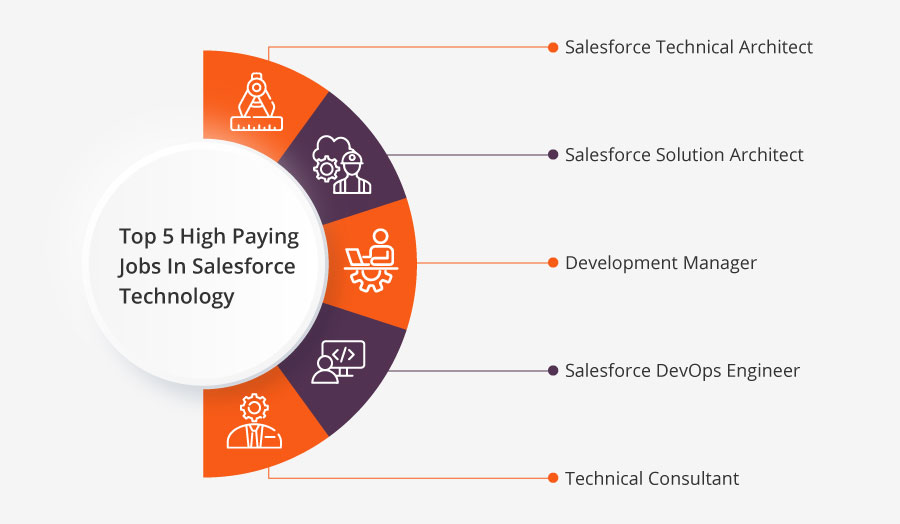 Salesforce Technical Architect
A Salesforce technical architect is responsible for developing customized solutions within the Salesforce platform to support critical business functions and meet client requirements, project objectives, and company goals. They also assure data security, integrity, and management, as well as performance, and scalability of the technical solutions.
The job requires certain sophisticated technical skills alongside a hands-on understanding of soft skills like project management, effective communication, and a customer-centric mindset. With such a crucial role to play, it is no surprise that a Salesforce technical architect job profile is ranked among the top highest-paid Salesforce jobs.
Average Salary in India:
₹30,50,000 - ₹51,00,000/yr
Average Salary in USA:
$168,000 – $170,000/yr
Salesforce Solution Architect
A Salesforce solution architect's job revolves around creating solutions and designing solutions across Salesforce platforms. They are responsible for conducting research into clients' use of Salesforce and creating reports and a roadmap for Salesforce solutions. Salesforce solution architects are key to effectively creating and deploying a solution and thus, must understand Salesforce inside out. Since it's an extremely technical job, most companies prefer candidates with a professional certification in Salesforce with hands-on experience.
Average Salary in India:
₹24,00,000 to ₹ 47,00,000/yr*
Average Salary in USA:
$155,000 – $156,000/yr*
Salesforce Development Manager
Salesforce development managers are in charge of ensuring that the developers work efficiently whilst offering constant leadership support and guidance to them. They act as the point of contact for the developers, upper management, and customers.
Development managers also work closely with product owners to understand business needs better. For a role like this, recruiters typically look for someone with relevant experience of approximately 2-3 years in managing a Salesforce development team.
Average Salary in India:
₹20,00,000 - ₹28,00,000/yr*
Average Salary in USA:
$158,000 – $159,000/yr *
Salesforce DevOps Engineer
In the Salesforce ecosystem, one of the highest-paying jobs is that of a Salesforce DevOps engineer. The role involves building DevOps applications that speed up development timelines while reducing the occurrence of bugs in the system.
They are responsible for implementing highly scalable solutions on the Salesforce platform. Even though Salesforce DevOps engineer is a highly lucrative job profile, it requires an extensive experience of at least three years in the domain working in core software development and IT operations.
Average Salary in India:
₹20,58,656 - ₹23,16,448/yr*
Average Salary in USA:
$175,000 – $177,000/yr*
Technical Consultant
Salesforce technical consultants make use of advanced technical knowledge to execute complex Salesforce development projects. They are responsible for delivering rapid, value-driven customer solutions for complex business problems. They deliver quality solutions by extending support and recommendations to clients with strong skills in technical configuration.
To secure a job in this role, all you need is a bachelor's degree in computer science and an advanced certification in Salesforce development.
Average Salary in India:
₹15,00,000 to ₹ 23,60,000/yr*
Average Salary in USA:
$166,000 – $167,000/yr*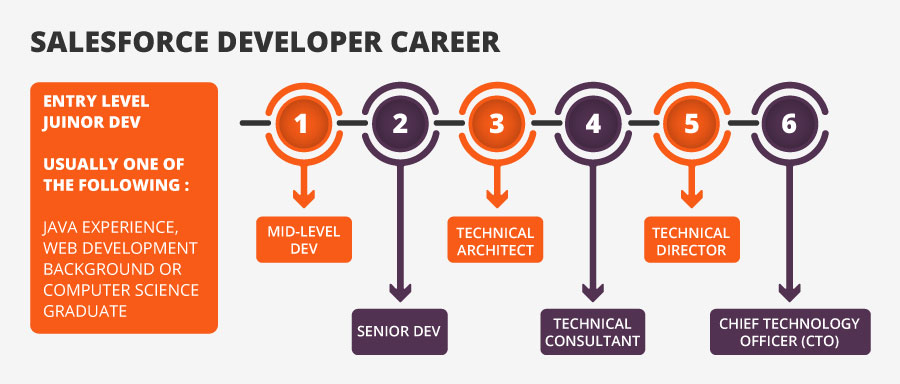 How to Get a Job in Salesforce?
With the ever-so-growing demand for Salesforce professionals, the first step is to obtain a Salesforce certification. Not only will this help you learn the skills required to work in this industry but also increase your chances of landing a high-paying job. With a multitude of certification courses available online, it is an open door for you to advance your career.
You could also take up an internship program to get hands-on experience in working on complex projects and further increase your chances of making a resounding career in Salesforce technology.
For any queries about Salesforce and building a career in the field, please feel free to reach out to our experts at support@skillstone.in and we'll take it from there.
⚹ All US salary brackets have been drawn from SalesforceBen
⚹ All Indian salary brackets have been drawn from Glassdoor and AmbitionBox
⚹ All salary brackets are for a active work experience of 4-7 years
Previous post
September 6, 2022
Next post
September 5, 2022