Getting an IT Job for Non-ITians Is a Lot Easier Than You Think
Kriti Pahuja
|
Apr 5, 2022
|
8 minutes read
The U.S. Bureau of Labor Statistics states that about 26% of IT workers in the United States do not hold a bachelor's degree.
So, don't let the lack of a degree in Computer Science stop you from pursuing a career in IT.
With tons of short-term certification courses available online, getting a job in IT is a lot easier than you think.
In this blog post, we will look at how easy it is to switch your career to IT, the things you need to prepare for, and what your options are.
Let's get started.
How To Prepare
Research and Look For a Job Role That Aligns with Your Interests :

The most important thing to do when making a career switch to IT is research. Since it is a big move, it makes sense that you read multiple job descriptions and talk to professionals in the industry to understand what a day in their lives looks like.

Do your due diligence in terms of research - attend webinars about IT careers and technology trends, read blogs, interact in forums, join groups and communities to find out what works best for you.

Upgrade Your Knowledge :

Once you have finalized the job role you want to pursue, start upgrading your knowledge of it. Though a degree in IT is no longer a mandate for an IT job, the practical knowledge of the job is. With a whole suite of self-paced eLearning courses available out there, getting hands-on experience is not far-fetched.

Work Your Way Up:

It is important that you understand and accept that when you're making a career switch, chances are that you will be considered a fresher. You will have to start small. Take up honorary projects and internships, if required. This will help open up diverse avenues and expand the horizons for your growth.

Nurture Your Network : According to a LinkedIn survey, up to 85 % of all job opportunities are discovered through networking. Thus, nurturing your professional network provides you with a chance to get to know about new career opportunities through introductions, recommendations, and referrals. When people recommend you, it adds credibility to your profile and speeds up the recruitment process.
Consider Getting A Mentor :

As Benjamin Franklin said, "Tell me and I forget, teach me and I may remember, involve me and I learn."

With a mentor by your side, you can tap into a wealth of knowledge that can get you up to speed faster and shorten the learning curve. They help you navigate through the change and be your guide and friend through tough times. Moreover, they connect you with the right people, help you set the right goals, and aid your understanding and growth.

There are many platforms where you can find a mentor who can help you speed up your success journey and achieve your goals faster.

Tailor Your Resume :

The resume acts as a bridge between you and your prospective employer. Thus, never underestimate the importance of having a well-written resume. Your resume should reflect your knowledge, skills, accomplishments, and experience that align with your career path and goals. Focus clearly on the experience/skills that you have or have attained. Also, make sure to highlight all the skills you believe are transferable from your previous work experience.
Answering The Difficult Question: Why The Career Change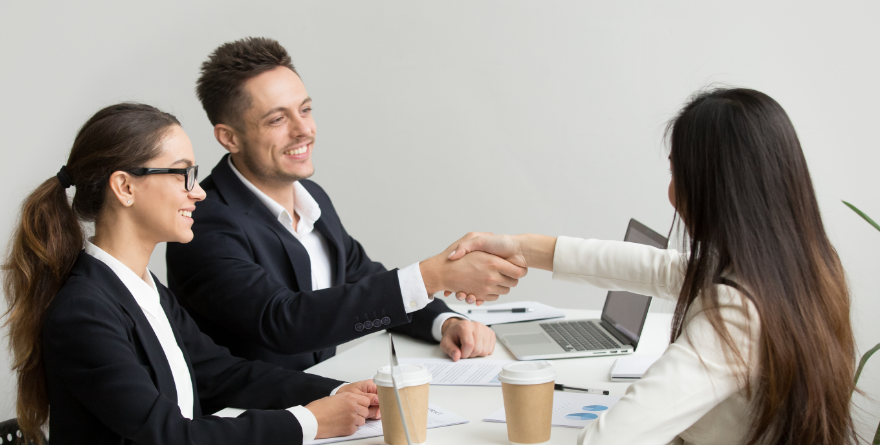 When you're making a career change, there is quite a possibility that the interviewer may ask you why you have decided to change your career. The best way to answer this question is to answer it head-on with a reason or two.
You could say something like, "I have been a Project Manager for over 5 years and have really honed my skills working at an ABC company. However, Covid got me really passionate about healthcare. I'm looking to transfer my project management skills to a healthcare company that uses technology to make it more accessible for people."
Most sensible answers will include things like job security, and how the industry aligns with your long-term career goals.
The most important thing to remember here is to be specific about how the skills from your current job/industry will be of help in excelling in the new role. Explain to the interviewer how your former experience will come in handy with the job on offer.
Instead of rambling on about why the current industry doesn't align with you, or how you hate your current job, focus on explaining how you plan to prove your potential in the new job.
And here's your chance to showcase your dedication and interest by mentioning any online courses that you took to hone your skills.
What Your Options Are: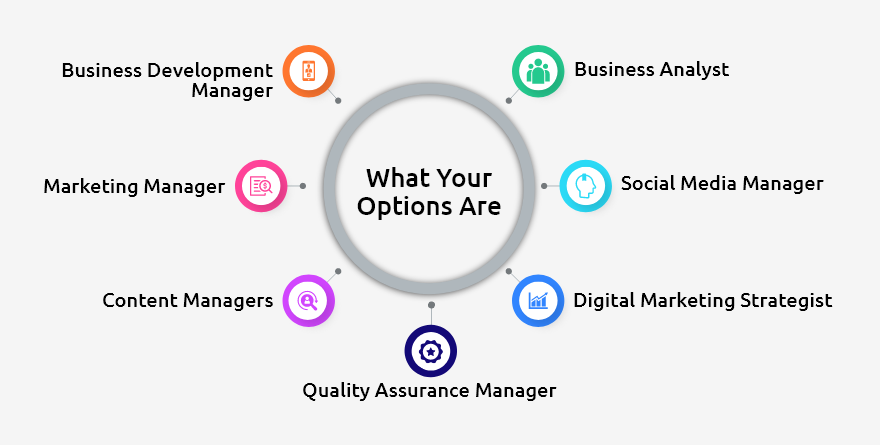 Before you take the plunge, it's important to know your options.
Below, we have listed some of the best-paying career options that you can take up, even if you are not from an IT background.
Business Analyst

A business analyst's responsibilities include analyzing and evaluating the current business processes and identifying areas for improvement. A business analyst will use data to gather business insights and recommend relevant solutions. This may involve community interactions to create a thorough understanding of user needs and preferences.

Digital Marketing Strategist

As a digital marketer, your job duties require creating actionable advertising plans for relevant online marketing channels. Being one of the highest paying non-IT jobs in India, digital marketers require a sound understanding of marketing principles and content management; alongside a working knowledge of social networks.

Social Media Manager

The primary role of a social media manager is to create awareness around the brand and its products using diverse social media channels including, but not limited to Facebook, Instagram, LinkedIn, Quora, Pinterest, etc. The profession requires tailoring marketing strategies and content to match the platform context. This is a fast-paced job with ample market opportunities.

Marketing Manager

Sitting at the helm of the marketing strategy in an organization, marketing managers are responsible for promoting the brand's products and services. They are required to collate estimates for the budgets, build relationships with media outlets, review advertising material, and analyze the ROI of previous campaigns to create reports.

Business Development Manager

Business development managers are usually the point of contact for the company's existing and new clients. It is thus a well-paying job, and demands overseeing all marketing collateral, preparing reports, and maintaining and building stronger client relationships. Additionally, BDMs are also required to pitch, upsell and cross-sell the company's products and services to all potential clients.

Content Managers

Content managers are responsible for building a brand identity and online presence through the development and distribution of multimedia content online. This role usually demands basic knowledge of content and SEO. The role also requires people and project management skills.

Quality Assurance Manager

Quality assurance managers help assure the quality of the company's product. They help ensure that the product works exactly as it is intended. Quality management is one of the key motivating factors for customer satisfaction and brand management. Taking an online course in QA Automation will help you pursue a successful career in this field.
Apart from these, there are multiple other employment opportunities, like a management consultant, graphic designer, product manager, etc. With short-duration online courses, you can also easily take up a job as a software developer; or get an internship in Salesforce, FullStack, and more.
Conclusion
There are many different reasons why people change career paths. And if you've reservations about your decision, remember it's never too late.
All you need to do is take some time to evaluate your present situation, learn the skills with the help of self-paced online courses, and earn the required certifications (optional), and you are ready to take on the world.
SkillStone offers a wide array of courses that can come in handy to help you land your most coveted job.
These certifications also boost self-esteem to face interviews with confidence and get started on the right path.
Should you have any queries, please reach out to us at support@skillstone.in and we'll help you get the ball rolling.
About SkillStone:
SkillStone is an initiative by Grazitti Interactive, giving you an edge in landing your most coveted job by covering the gaps between the script and the screen. We offer a diverse set of courses that'll earn you certifications in tech skills and help make the career switch easier.
Previous post
April 5, 2022