The Importance of Salesforce and Its Career Scope
Kriti Pahuja
|
Jun 1, 2022
|
5 minutes read
More than 4.1 billion B2C messages are sent and 5 billion service and case interactions take place across Salesforce — in a day.
In addition to this, 6.2 million B2B sales opportunities are created in a day.
The most widely-used customer relationship management platform, Salesforce gives you customer insight with cloud-based apps for marketing, sales, support, and more.
The CRM software enables you to plan marketing campaigns, track customer activity, and connect with prospects and partners.
It is no wonder then that it is an important tool to drive customer growth and success.
In this blog post, we look at its importance, as well as the scope of a career in Salesforce.
Let's begin!
The Importance of Salesforce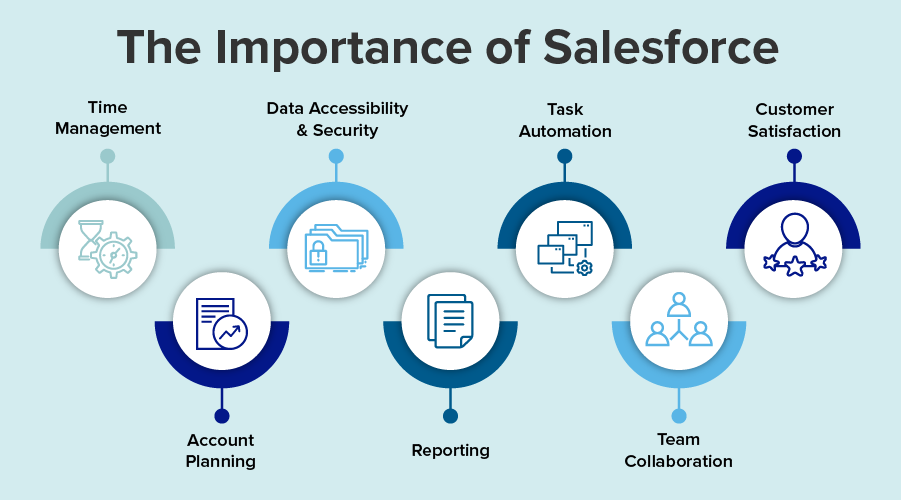 Here's how Salesforce enables businesses to effectively manage customer relationships:
Time Management
Salesforce integrates customer data and planning initiatives, helping you save time and effort.
With relevant customer data, it enables you to streamline your sales funnel and convert prospects to customers.
Salesforce also has a calendar that makes it easy to plan projects, as well as schedule meetings and phone calls.
Data Accessibility & Security
Since Salesforce is cloud-based, it is accessible via the internet, whether you're using a desktop, laptop, or smartphone.
The CRM platform also provides a mobile application. It is especially beneficial for users who travel frequently.
Being able to reach your CRM software no matter where you are simplifies access and helps you stay up-to-date about customers.
As a matter of fact, data on the cloud is secure as compared to a file cabinet or local server.
Task Automation
On any given day, your team creates a ton of data. Without Salesforce, you're most likely to be sorting through it manually.
The CRM software enables you to automate manual tasks, giving you time to build enduring customer relationships.
Customer Satisfaction
Customers are more satisfied when they interact with a business that understands their needs (thanks to a CRM tool such as Salesforce).
It helps you serve customers with easy access to information, accounts, purchase history, and preferences. And happy customers are more likely to promote your brand.
Account Planning
Salesforce makes it easy to create plans for accounts. With readily accessible data, you'll be able to place it into the correct accounts.
It enables you to stay organized, tailor products and services according to customer needs, and adjust the time spent on each customer.
Reporting
With so much data pouring into your business, it's easy to become lost. Salesforce keeps relevant data organized and enables you to make sense of it.
It helps you keep track of data from social media, your website, mobile applications, software, and more.
Reporting enables you to sort big data and analyze it in order to make it actionable.
Team Collaboration
Salesforce helps you connect with team members from anywhere using the "Chatter" feature.
This enables you to talk about customers and data, including territory and product/service details.
With teams on the same page, your business becomes cohesive and operates more efficiently.
Now that we know more about its importance and benefits, let's look at the scope of a career in Salesforce.
A Career in Salesforce
The Salesforce job market is growing rapidly. By the end of 2022, the ecosystem will have close to 33 lakh professionals.
Since its founding in 1999, Salesforce has expanded globally, with organizations of all sizes using the platform.
The perfect time to begin a career in Salesforce is now. There are multiple roles that you can get trained for, including but not limited to:
Salesforce Administrator/Program Manager: Ensure scheduling, smooth coordination, and clear communication for the project team. Make it easier for new members to join teams.
Salesforce Analyst: Configure dashboards, fields, automation, third-party apps, reports, objects, and automation tools. Collaborate with consultants to ensure that the solution meets client requirements.
Solution Architect/Network Engineer: Understand the ins and outs of business models. Collaborate with Salesforce consultants to design technical solutions. Team up with analysts to ensure efficient configuration.
Technical Lead: Customize Salesforce integration and enable additional platform functionalities.
Salesforce Developer: Write code for Salesforce projects. Team up with the Technical Lead and Salesforce Developers to understand requirements and deliver the solution.
Conclusion
If you're planning to start a career in Salesforce, there is a wide range of eLearning courses available.
At SkillStone, we're offering multiple courses in Salesforce development to aid your growth in the field. At the beginner's level, a 3-month course is good to get your foot in the door.
Should you have any queries, please reach out to us at support@skillstone.in and we'll help you get the ball rolling.
About SkillStone
SkillStone, an initiative by Grazitti Interactive, gives you an edge in landing your most coveted job. With these skill-based eLearning courses, SkillStone helps you cover the gaps between the script and the screen. We offer a diverse set of courses that'll earn you certifications in tech skills and help build a career in the field.
Previous post
June 1, 2022