Salesforce Marketing Cloud: The Platform Modern Marketers Prefer
Admin
|
Sep 20, 2021
|
2 minutes read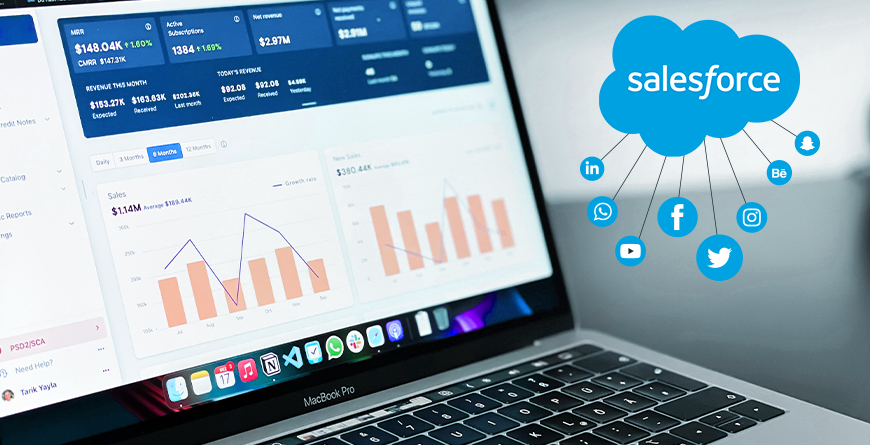 Today, customers control what, when, where, and how to interact with a brand. That's what makes it really complicated for marketers to manage that relationship with the customer through just traditional methods.
In fact, one of the biggest challenges for marketers is managing customer expectations. It takes strategy and precision to attract, acquire, and retain today's savvy customers.
With marketers juggling through multiple initiatives at a time, marketing automation comes as a sigh of relief for them.
Salesforce Marketing Cloud (SFMC) is a marketing automation dream platform for every marketer as it backs them with the power of personalized messages to reach their ideal customers through multiple channels.
According to a study, the global marketing cloud platform is expected to reach $14.3 billion by the end of 2027 and is expected to grow at a CAGR of over 6.7%.
So, if you are still making up your mind about investing in SFMC, we'd love to help you explore all about this marketing automation platform that transforms your customer engagement and improves ROI.
What is Salesforce Marketing Cloud?
Salesforce Marketing Cloud is a marketing automation platform that has the prowess to support almost all facets of marketing including multi-channel campaign execution, dynamic customer journeys, pre-and post-campaign analytics, social media engagement and advertising, and data management.
And SFMC does it all using components called 'Studios' and 'Builders'.
Studios help to manage and engage with channels of communication.
Builders help to manage data, content, and customer journeys in the SFMC platform.
What Makes Salesforce Marketing Cloud a Robust Marketing Superhero?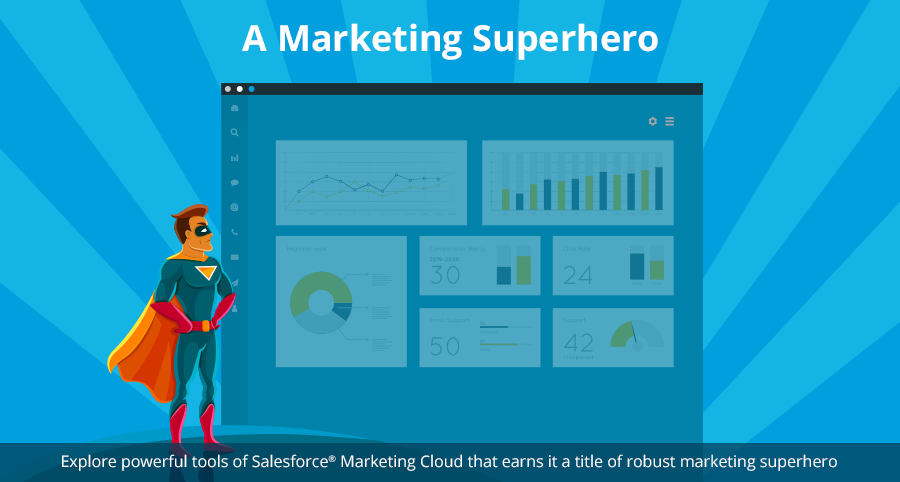 Besides being integrated into the Salesforce ecosystem, there are powerful tools of the Salesforce Marketing Cloud that cover all the marketing requirements and take your business to the next level. They are:
Journey Builder –

It enables you to recognize every moment that defines your customer's journey and allows you to create customized customer journeys through multiple channels.

Contact Builder –

It enables you to create, organize, and manage multiple contacts that are to be approached for marketing communication.

Analytics Builder –

It enables you to get better insight into customer behavior. Also, you can create customized and automated reports to get an extensive view of your marketing efforts to make key business decisions.

Social Studio –

It is a powerful social media marketing tool that allows you to gain insights into your customer's social interactions by monitoring social posts they engaged with or the topics they searched for.

Mobile Studio –

It enables your marketing team to send specific personalized communication to your target audience via SMS. Also, you can automate message delivery and track performance.

Email Studio –

It empowers you to take your email marketing up a notch. You can easily send your customers automated emails with customized content that helps boost your open and click rates.

Advertising Studio –

It enables you to use customer data from multiple sources to reach customers and lookalikes across various social platforms. You can use it to manage ad campaigns at scale.

Interaction Studio –

It enables you to visualize your customers' experiences in real-time and connect with them through any interaction.

Web Studio –

It can empower you to configure your landing pages and forms to optimize your website and capture the leads.
Why Should Businesses Use Salesforce Marketing Cloud?
Now that you have a fair idea of what SFMC entails, let's take a look at why it's a must-have for modern marketers.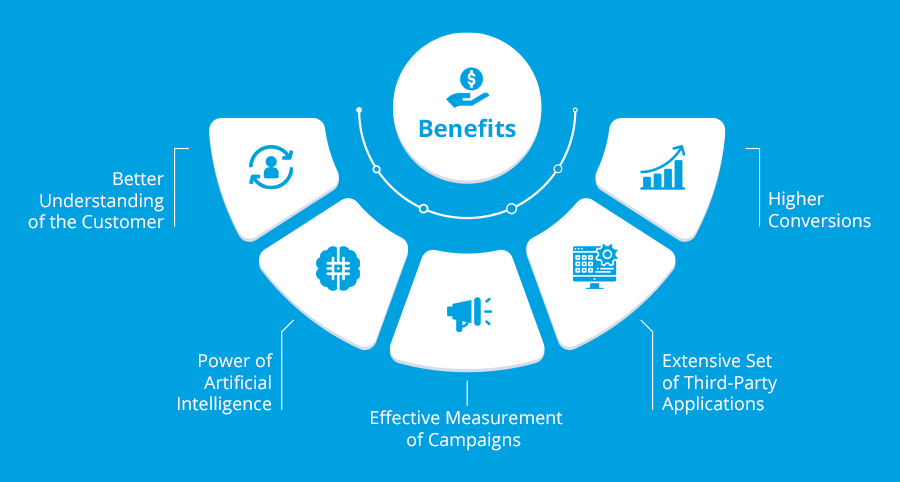 Better Understanding of the Customer

It enables you to connect data from different sources and obtain a single unified vision of the customer. You'll also be able to gauge first, second, and third-party data so that you get better insights into your customers' preferences. All this helps to increase the chances of customer engagement and conversion across all customer touchpoints.

Power of Artificial Intelligence

SFMC has the powerful Einstein tool with Einstein Engagement Frequency, Einstein Engagement Scoring, and Einstein Send Time Optimization. You can increase engagements for your email campaigns with Einstein Engagement Scoring. Einstein Engagement Frequency can help with suggestions on email frequencies for making predictions to boost customer engagement. It enables customized communication with customers, based on their predictive data.

Effective Measurement of Campaigns

As a marketer, you need to know how your campaign performs and SFMC makes it easy. It provides real-time insights as interactions get aligned with your business goals and can even test out a lot of metrics such as channels, frequency, and messages to ensure that your marketing efforts get the desired ROI.

Extensive Set of Third-Party Applications

SFMC has an extensive set of third-party applications available, including those from Salesforce AppExchange to boost its capabilities and customize it to your specific business goals. Beyond the AppExchange, there are plenty of third-party products from Salesforce partners that integrate with SFMC to boost its functionality and value.

Higher Conversions

When you deliver personalized communication and exemplary customer experiences, you win the trust and loyalty of your customers. They get motivated to increase their interactions with your brand. When you understand your audience's intent, you can influence their purchase decisions and ultimately expedite the closure of deals.
Here's what Salesforce has to say about their Marketing Cloud – "Every imaginable customer interaction and engagement is covered."
And we couldn't agree more!
SFMC helps you get to know your customers better, engage them across their entire journey, and deliver personalized customer experiences across all touchpoints.
Salesforce is an esteemed organization leading the world of tech innovation. The company has been on Forbes list of the top three most innovative organizations for eight successive years. They are expanding rapidly and have great career scope for those proficient in Salesforce.

If you are interested in learning Salesforce, check out our Salesforce Beginner's Course.
Previous post
September 20, 2021
Next post
September 20, 2021