Data & Analytics in Higher Education: Challenges and Opportunities
Admin
|
Sep 20, 2021
|
2 minutes read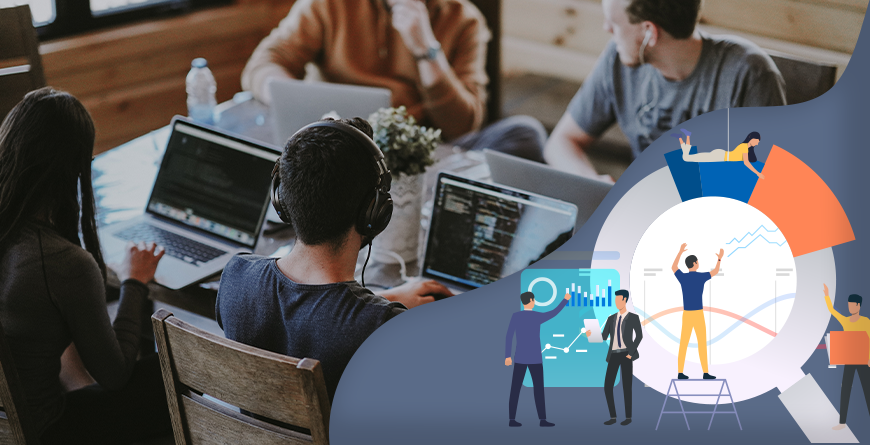 The outbreak of COVID-19 has led to increased dependence of the educational experience on new technologies.
New technologies also mean renewed expectations, which higher education institutions need to fulfill in order to provide an improved educational experience.
In this blog post, we look at how data and analytics can help you make the most of the challenges and opportunities in higher education.
So, let's get started!
Challenges in Higher Education
Let's take a brief look at some of the pressing challenges faced by institutions of higher education in providing students with a superior learning experience.
•
Meeting goals for student enrolment
•
Addressing learning gaps among students
•
Giving individual attention to each student
•
Extracting actionable insights from data
In addition to this, students come from different backgrounds and have varying degrees of resources and opportunities to achieve educational goals.
Predictive Analytics in Higher Education
Analytics helps you improve institutional efficiency, enhance student outcomes, and provide a superior educational experience.
Optimize and personalize the educational process, and then expand to newer areas by developing a culture of data-driven decision making.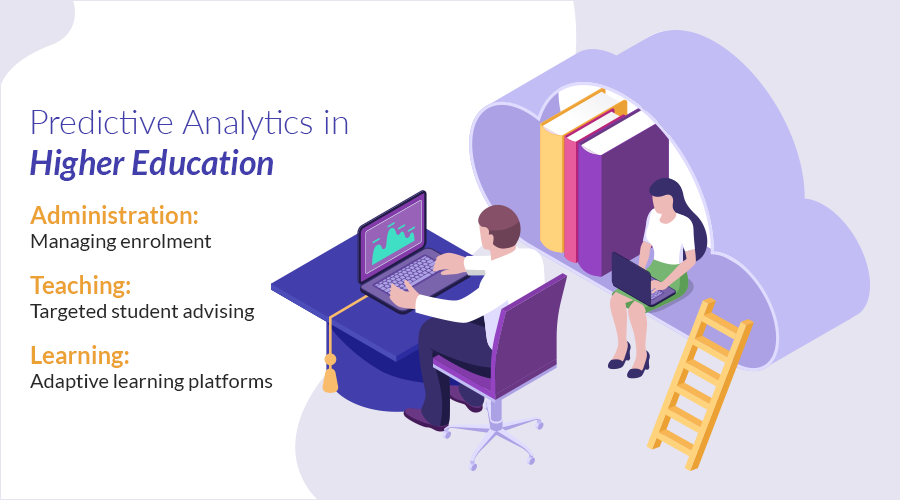 There are three major fields in higher education in which you can apply analytics:
Administration: Managing Enrolment
Apply analytics to make better decisions with regard to enrolment management.
Conserve your marketing budget by using predictive analytics to find out which students are most likely to enroll.
You can do this on the basis of engagement data points.
This could be attending a campus tour or requesting promotional materials.
Teaching: Targeted Student Advising
In the absence of an adequate number of teaching professionals, it can be difficult to provide individualized attention to students.
Use predictive analytics to develop an early-alert system to identify students who need support from teaching staff.
Track indicators such as grades and classroom behavior, and build an effective intervention strategy.
Learning: Adaptive Learning Platforms
It's not long before personalization becomes commonplace in academic learning.
With adaptive learning platforms, you can chart a student's learning path based on their interactions with technology.
Bridge the learning gap and customize the academic experience by providing insights to instructors with adaptive learning courses based on predictive analytics.
Accelerate student learning by providing additional support in areas that need improvement, and allow them to quickly go through the content they already have.
Wrapping Up
In this blog post, we looked at how data and analytics help you make the most of the challenges and opportunities in higher education.
By applying analytics to the educational experience, you can:
•Conserve your marketing budget by predicting student enrolment
•Develop systems to identify students who need support from staff
•Customize the academic experience with adaptive learning
And more!
Salesforce is an esteemed organization leading the world of tech innovation. The company has been on Forbes list of the top three most innovative organizations for eight successive years. They are expanding rapidly and have great career scope for those proficient in Salesforce.

If you are interested in learning Salesforce, check out our Salesforce Beginner's Course.
Previous post
September 20, 2021
Next post
August 23, 2021