10 Amazing Facts About Salesforce You Must Know
Admin
|
May 20, 2021
|
1 minute read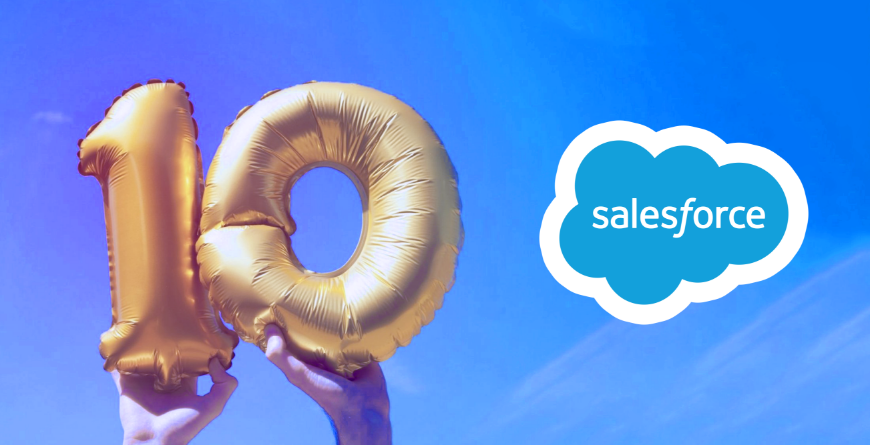 From humble beginnings in a one-bedroom apartment at Telegraph Hill, San Francisco, to becoming the big daddy of CRM platforms worldwide, Salesforce has quite a fascinating story.

In this blog post, we've covered the 10 most amazing facts about the tech giant.

Let's jump right in!
A Passionate Entrepreneur

A strong foundation is the key to success for any business. Salesforce was founded by a visionary techpreneur, Marc Benioff—who is known to have a natural gift for entrepreneurship. He started repairing antennas in his neighborhood when he was 12, and developed and sold software at 15! Marc envisioned Salesforce during swimming in Hawaii. And since then, he has been pioneering the tech world with his vision and eye for innovation.

Bold Marketing Moves

At the time of Salesforce's origin, the tech world was powered by on-premise technology. Convincing companies to shift to cloud was a tough job, considering Salesforce was less than a 10 individuals' company.

However, Benioff went after his biggest competitor, Seibel. He hired protestors to protest against the software outside their annual conference. A media crew was also hired to garner public attention. When Siebel informed the police, the incident generated a lot of buzz for a rather unknown company, Salesforce.
They did not stop here. In another incident, Siebel held a press conference in Cannes, and Salesforce hired all airport taxis since most executives had to take one to reach the venue. During the taxi ride, Salesforce pitched their idea to IT professionals and offered marketing material.

Salesforce and Amazon

Apart from being two very successful companies and surviving the dot-com bubble, Salesforce and Amazon have something important in common—their easy-to-use interface. When Marc was pushing the boundaries of the software that he just developed, he wanted his product to be economical and user-friendly. His idea of usability was based on the eCommerce giant Amazon who has been ruling this space since its launch in 1994.

The Idea of an App Store

'App Store' may remind you of Apple. But did you know it was Salesforce that came up with this phrase? When they launched AppExchange in 2005, Salesforce had initially decided to name it App Store. The company even trademarked this term and enrolled the domain name. Later, Benioff revealed that he bestowed it as a thank you to Apple's co-founder and then CEO, Steve Jobs.

Strong Domain Game

Domain names are valuable to Salesforce. And they certainly don't hang back from getting the one they want—Force.com, Site.com, Desk.com, Work.com, Data.com, and Social.com are some impressive domain names that Salesforce owns. The company bought Social.com for $2.6 million, Data.com for $1.5 million, and Do.com in a classified deal with Microsoft. Salesforce also sold a bunch of domain names in 2011 for $4.5 million.

Billion-Dollar Acquisitions

Salesforce has a reputation for an ever-growing product range. They started with Sales CRM and now offer products tailored for marketing, analytics, commerce, and customer support. Salesforce does this by acquiring companies and integrating products into their offerings. Till now, they have spent around $35 billion on acquiring 60+ companies, including Marketing Cloud, Social Studio, Mulesoft, and Tableau.

The 1/1/1 Scheme

The 1/1/1 scheme is a philanthropic framework developed by Salesforce. The idea is to contribute 1% of product, 1% of equity, and 1% of workers' time to society. The Salesforce Foundation gives grants to charities, offers discounted and free innovation to non-profits, while workers offer a limited time. Since its inception, this model has been embraced by organizations such as Google, Box, Yelp, and Workday.

The Towers of Salesforce

Salesforce has been at the forefront of innovative marketing. The company has been securing naming licenses to many business buildings, worldwide. They have a magnificent tower as their HQ in San Francisco which has more than 60 floors. Salesforce also has towers in New York, Atlanta, and Indianapolis while more are coming up in Sydney, Tokyo, Chicago, and Dublin.

Salesforce Vs Oracle

Salesforce and Oracle, or should we say Marc Benioff and Larry Ellison (Founder & CEO, Oracle) have a very colorful history. Benioff worked under Ellison and got promoted to the VP of Oracle at the age of 25. Benioff then decided to proceed with his own venture, Salesforce. Ellison encouraged this move, invested $2 million in it and joined the directors' board of Salesforce. Later, when Benioff found out that Oracle was creating another CRM, he fired Ellison. What's interesting here is that Salesforce is still one of Oracle's big customers and hosts their platform on Oracle.

Mega Conferences

Unlike any other conference, Salesforce's annual conference Dreamforce is a 4-day mega-event held in San Francisco. It hosts over 170,000 guests including personalities such as Barack Obama, Emilia Clarke, Tony Robbins, and David Beckham. During the event, all the hotels get booked up in the area and prices skyrocket to $1000 for a single night's stay. The Dreamfest concert by Salesforce sees notable music bands that include Metallica, Fleetwood Mac, and U2.
Salesforce is an esteemed organization leading the world of tech innovation. The company has been on Forbes list of the top three most innovative organizations for eight successive years. They are expanding rapidly and have great career scope for those proficient in Salesforce.

If you are interested in learning Salesforce, check out our Salesforce Beginner's Course.
Previous post
May 20, 2021