Team SkillStone Visits LPU-Jalandhar Campus To Prepare Its Salesforce Developer Batch Students For Professional Interviews
Kriti Pahuja
|
Sep 7, 2022
|
2 minutes read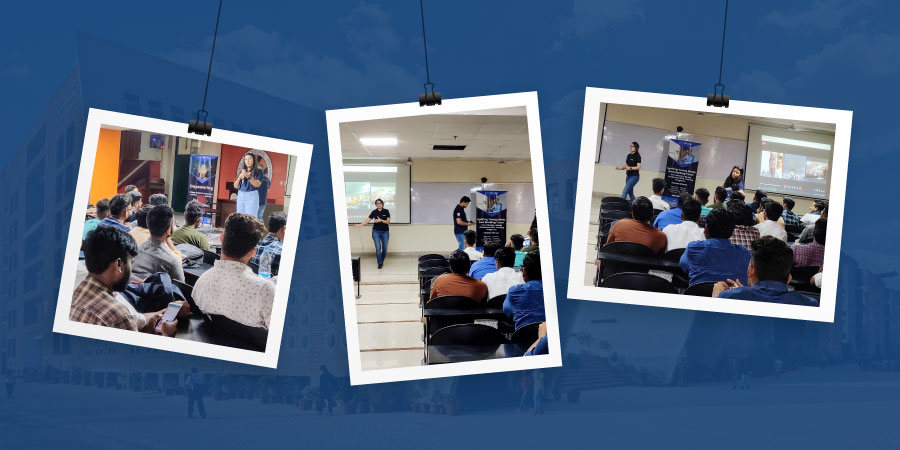 July 12, 2022 - Jalandhar: Team SkillStone recently visited Lovely Professional University's Jalandhar Campus for a meet, greet, and training session with its June Salesforce Developer batch. The three-hour seminar was conducted by Salesforce Subject Matter Expert at Grazitti Interactive, Bharat Arora, where students could freely seek answers to their queries and understand the technology better.
A major part of the interaction was dedicated to preparing Salesforce students for professional interviews via fun and interactive games. The top performers during these games were awarded SkillStone goodies. Part of the felicitations also included giveaways for the respective TPOs to acknowledge and appreciate their efforts.
Talking about why these interactions also include sessions to help prepare for interviews, Mehak Arora, Senior Executive (Operations) at SkillStone, said "It is often believed that the only requirement for well-paying work in multinational corporations was technical and curriculum-based expertise. However, that is no longer true as there has been a clear paradigm shift in the requirements that businesses have today." "Companies globally believe that in order for their workers to have a competitive advantage, they must be more skilled at knowing how to get along with people and display a positive attitude," she added.
About SkillStone
SkillStone, an initiative by Grazitti Interactive LLP, aims to bridge the gap between academics and industry with the amalgamation of theoretical knowledge and practical experience. It empowers college students, graduates, and working professionals with an industry-ready skill-set.
The perfect amalgamation of theoretical knowledge and practical experience helps create an employment-ready workforce that is all-set, right from the get-go. SkillStone's meticulously planned wide spectrum of training programs give students and fresh grads an edge in landing their coveted job.
About Grazitti Interactive®
Grazitti Interactive is of the largest companies in the Chandigarh-Mohali-Panchkula tri-city region, with offices in the USA, Canada, Singapore, and Australia. Since it's inception in 2008, the company has served the needs of global enterprises in marketing, sales, and support. Their products and services have helped over 1000 customers—including several Fortune 500 companies—build their web presence, automate marketing and sales, and streamline support.
Next post
December 28, 2022