The Need for Industry-Institute Collaboration
Shreya Khanduja
|
Mar 17, 2023
|
3 minutes read
Meeting emerging industry trends and needs is a challenge that educational institutes face.
For instance, a large number of engineering students are unfit for employment.
Did you know that 92% of employees in India suffer from a lack of industry skills, and two-thirds feel they have been personally impacted by such a gap?
However, technology continues to outpace the ability of educational institutes to teach them to students.
This can be addressed through institute-industry collaboration. In this blog post, we discuss how this benefits all stakeholders involved.
So, let's begin!
Challenges That Institutes Face In Imparting Employable Skills
There are many reasons why educational institutes are unable to bridge the gap when training students in contemporary skills:
The traditional approach focuses more on scoring high instead of hands-on skill and tech learning
There is a lack of up-to-date infrastructure and curriculum that supports innovation
Faculty is not up to date with new age skills due to lack of exposure
In-demand skills and courses are unavailable
Why There Is a Need For Early Digital Learning
In the post-pandemic era, students' ability to expand skill sets gives them a competitive edge.
This enhances the need for industry and institutes to come together and:
Align engineering education with global trends
Develop modern curricula that can be extended to university requirements
Upgrade curricula to include AI, ML, IoT, robotics, cloud computing, data analytics, augmented reality, virtual reality, and cybersecurity
Organise student induction programs to enable early orientation to these subjects
Enable students to participate in industry hackathons
Conduct industry internships
Organise certification programs on the latest technologies
Benefits of Institute-Industry Collaboration
For Institutes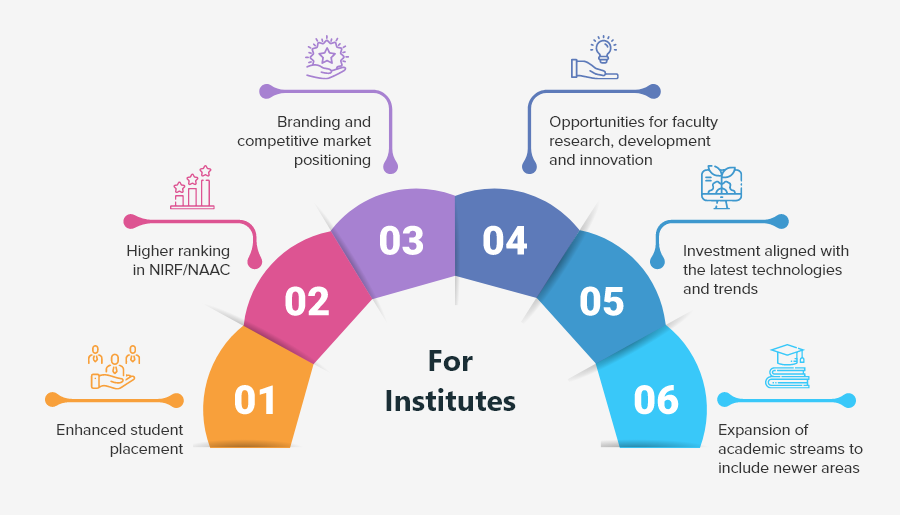 Enhanced student placement
Higher ranking in NIRF/NAAC
Branding and competitive market positioning
Opportunities for faculty research, development and innovation
Investment aligned with the latest technologies and trends
Expansion of academic streams to include newer areas
For Industry
Industry-ready workforce
Niche skill identification and advance planning
Improved employee loyalty and talent retention
Opportunities for senior employees to impart skills to students
For Students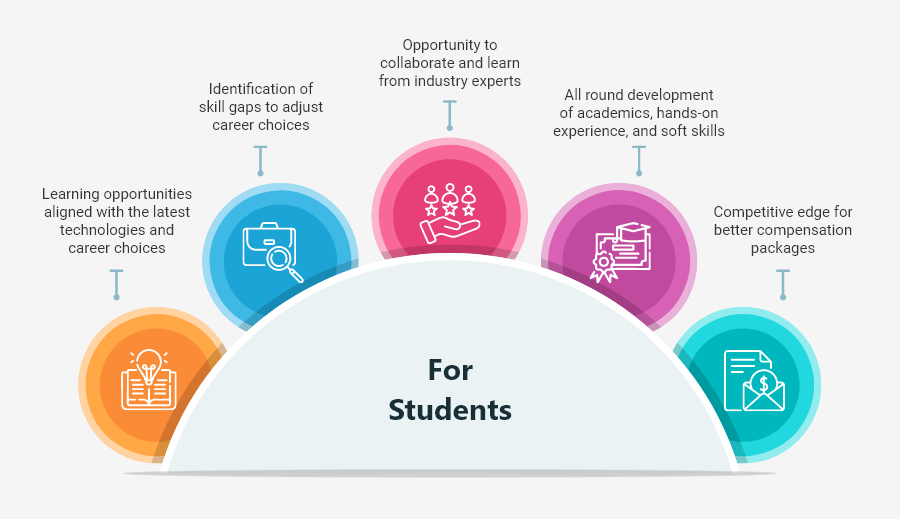 Learning opportunities aligned with the latest technologies and careerchoices
Identification of skill gaps to adjust career choices
Opportunity to collaborate and learn from industry experts
All round development of academics, hands-on experience, and soft skills
Competitive edge for better compensation packages
To Sum Up
Present era-students are well equipped and resourceful when it comes to quick, experiential learning.
Industry-institute collaboration will provide them with ample opportunities to collaborate with industry experts.
Similarly, organisations will get industry-ready candidates they can employ in future.
About SkillStone
SkillStone, an initiative by Grazitti Interactive, gives you an edge in landing your most coveted job. With skill-based eLearning courses, we help you cover the gap between the script and the screen.
We offer a diverse set of courses that'll earn you certifications in tech skills and help you build a career in the field. To know more, drop us a line at support@skillstone.in and we will be there to help.
Previous post
March 17, 2023
Next post
January 5, 2023