8 Reasons why you should switch to self-paced eLearning
Shreya Khanduja
|
Jan 3, 2023
|
5 minutes read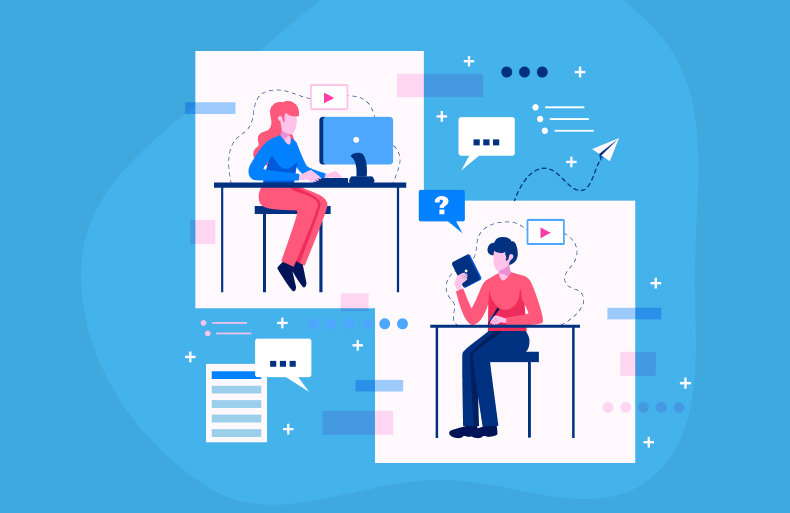 Why You Need to Enroll in a Self-Paced eLearning Course Today
Self-paced learning is no longer just a trend. It is a versatile mode of learning that has now become the go-to learning method for students as well as corporate employees.
In this blog post, we look at what is self-paced learning and the benefits it offers.
What is Self-Paced Learning?
In self-paced learning, the learner has control over the material and time taken to study the course properly. It doesn't follow a set schedule.
On the contrary, it's all about flexibility. The learner and instructor don't have to be online at the same time, as the learning is synchronous in nature.
All course material is made available to the learner as soon as the course starts, and they go through them at their own pace.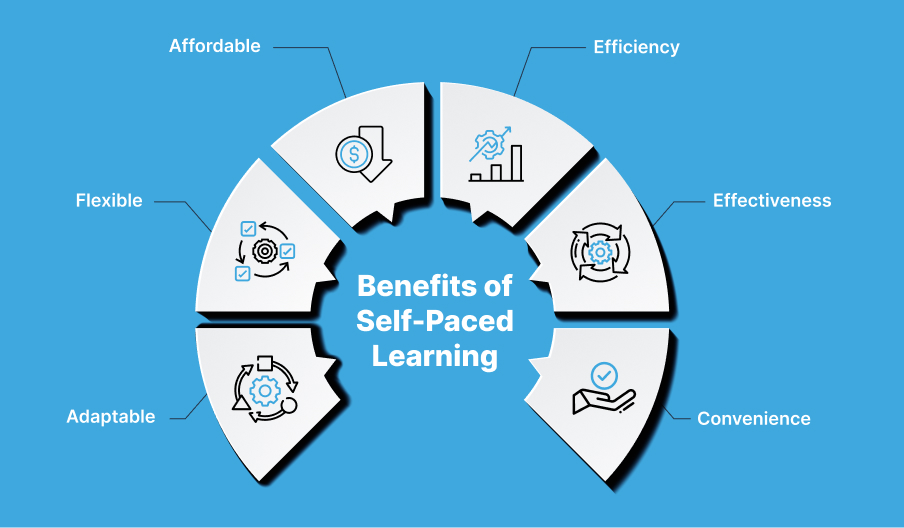 Benefits of Self-Paced Learning
Here are some of the benefits of self-paced learning :
Efficiency
Everybody has their own learning style. In a self-paced learning course, an individual can make the most out of their time in order to meet their learning objectives.
In the conventional learning model, instructors tend to steer the course, leaving a portion of learners either bored or lost.
Self-paced learning addresses this challenge. Quick learners can ace their course according to their competency.
On the other hand, students who learn at a slower pace can plan their learning schedule and absorb information without being pushed ahead too quickly.
Effectiveness
Studies indicate that learning online in a self-paced course can help you remember more.
Knowledge retention is one of the greatest benefits of self-paced learning. Since you are not pressured by time, your memory performance improves manifold.
In addition to this, self-paced learning supports inductive thinking. This is the ability to grasp information and then come up with conclusions.
Convenience
With self-paced learning, you can adjust learning into your schedule the way you want.
Are you a morning person? Study in the morning. Do you have unpredictable job responsibilities? Adjust your training around your priorities.
You can access your course from anywhere with just an internet connection and a mobile phone/tablet/laptop.
Affordable
Paying for the internet may be considered expensive. However, compared to the price of petrol, parking, and other expenses associated with on-campus studies, it is quite affordable.
Apart from saving money, you save time and effort you otherwise would spend on-campus.
Flexible
In self-paced courses, learners can allocate time based on the perceived difficulty of a topic.
Depending on how familiar you are with the subject, you can decide the amount of time you would need to master it.
The flexibility allows you to walk through the material as you deem fit. You can choose the subjects you want to invest more time in.
Also, you have access to online course material which you can revisit without getting stuck or falling behind.
Adaptable
For working professionals, working and learning simultaneously offers many benefits. When you learn at your own pace, you have greater control over how and when you use your newfound skills.
If you are planning a big career move, you can map out the skills you need and utilise them to get the job you want.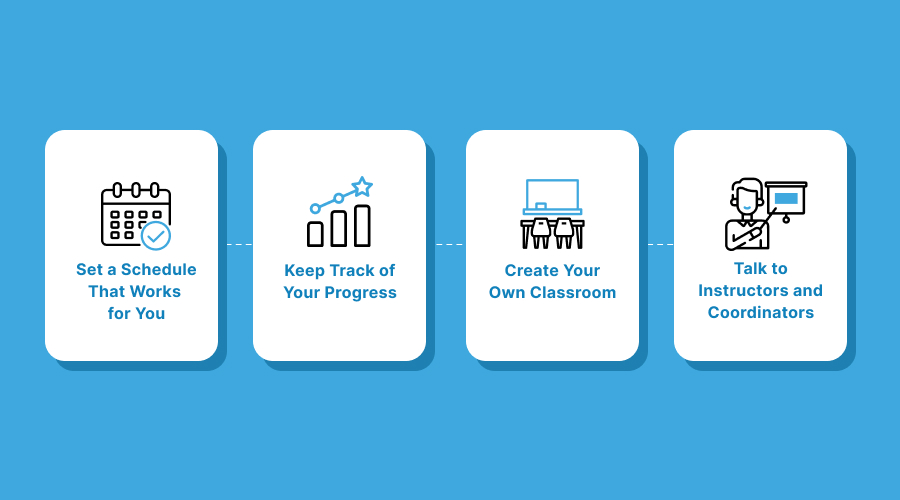 Tips to Succeed in Self-Paced Learning
Here are a few tips that will help you ace your self-paced learning course :
Set a Schedule That Works for You
Find the time you are most productive at and set a schedule. The important thing is to not just set the schedule but to stick to it as well.
Keep Track of Your Progress
Tracking progress enables you to find issues in your learning that you can address in time. Here are some of the ways you can do so :
Record the time spent on each assignment
Monitor grades to determine if you need to dedicate more time to a certain lesson
Track and adjust your schedule accordingly
Create Your Own Classroom
Creating your own classroom makes it easier to stay focused and on track. You can choose a small corner of your room or a separate study - it's your call.
Ensure that the space you choose is free from distractions and has all study essentials approachable.
Talk to Instructors and Coordinators
A self-paced course does not mean that you are on your own. Sometimes you need help or clarification on a task.
In such a situation, you can take help from your instructor or coordinator via email or through a discussion forum if the platform offers one.
Enroll in a Self-Paced Course with SkillStone
Briefly, self-paced courses don't bind you to deadlines and give you the freedom to learn at your convenience.
So, if you are a student or working professional looking to upskill, you are at the right place. At SkillStone, we offer self-paced IT courses for students, IT, and non-IT professionals alike.
To know more, drop us a line at support@skillstone.in and we will be there to help.
About SkillStone
SkillStone, an initiative by Grazitti Interactive, gives you an edge in landing your most coveted job. With these skill-based eLearning courses, we help you cover the gaps between the script and the screen. We offer a diverse set of courses that'll earn you certifications in tech skills and help you build a career in the field.
References
Previous post
January 3, 2023
Next post
November 18, 2022