13 Reasons Why Your Organisation Needs An eLearning Platform
Kriti Pahuja
|
Jun 15, 2023
|
5 minutes read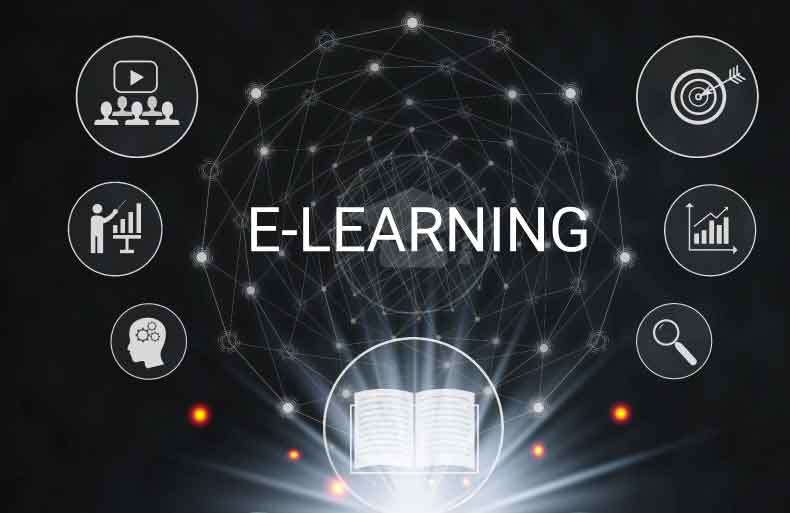 Keeping employee morale high is an absolute necessity for every organization. Especially with a dispersed workforce, keeping remote workers connected to the core of the system needs a lot of thinking and implementation.
One such means to keep employees motivated, connected, and constantly associated with the organization is collaborating on an eLearning platform. By recognizing the power of digital learning, you can revolutionize the way your employees or learners engage with training materials and professional development.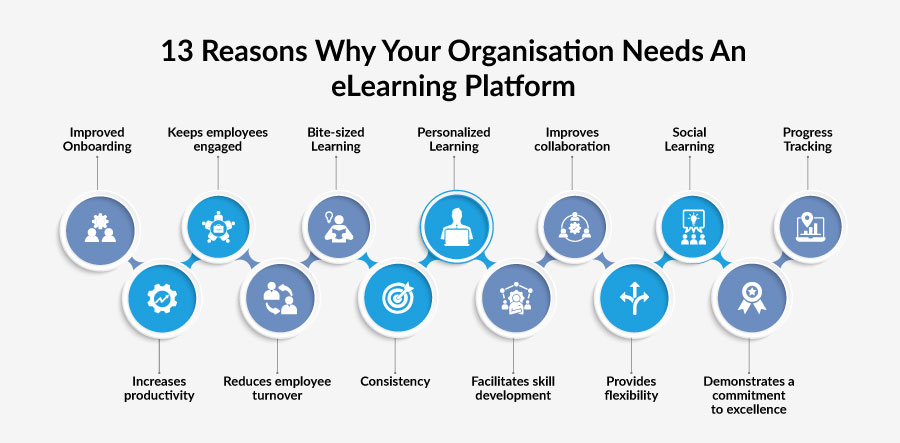 This blog discusses the top 13 reasons why your organization needs an e-learning platform to boost employee morale.
Improved Onboarding:

E-learning can improve the onboarding process for new employees by providing them with consistent and comprehensive training that helps them understand the organization's values, goals, and expectations. When employees feel supported and prepared for their role, they are more invested and tend to stay loyal to the organization.

Keeps employees engaged:

A strong eLearning culture ensures that employees have access to continuous learning opportunities. This keeps employees engaged and motivated as they feel that their organization is invested in their growth and development.

Personalized Learning:

E-learning platforms use technology to provide personalized learning experiences that cater to each employee's learning style, interests, and goals. This makes the learning experience more engaging and relevant and helps employees stay motivated to complete the course.

Bite-sized Learning:

E-learning platforms provide bite-sized learning modules that can be completed in a few hours. This allows employees to learn at their own pace and helps prevent information overload, which can lead to disengagement. Some platforms offer both short-duration and long-duration courses that employees can choose from and finish as per their availability and schedules.

Social Learning:

With online discussion forums, peer-to-peer learning, and collaborative projects, eLearning platforms provide opportunities for social learning. This allows employees to learn from each other, share ideas, and collaborate- keeping them engaged and motivated.

Progress Tracking:

Progress is good! E-learning platforms provide tools for employees to track their progress, where they can see how much they have completed, how much more they need to do, and how they perform compared to their peers.

Increases productivity:

Employees who are continuously learning are better equipped to handle their job responsibilities. This is especially true for organizations that work on technology. When employees get trained in the latest technologies, it leads to increased productivity, which in turn can positively impact the organization's bottom line.

Reduces employee turnover:

Employees who feel their organization is invested in their growth and development are less likely to leave the company. A strong eLearning culture can help reduce employee turnover rates, saving the organization time and money on recruiting and training new employees.

Consistency:

E-learning provides a consistent learning experience for all employees, regardless of their location or job title. This can help create a sense of fairness and equality within the organization, which can lead to increased employee satisfaction and reduced turnover.

Facilitates skill development:

eLearning can help employees develop new skills and improve their existing ones. This is especially important in industries that require frequent updates to knowledge and skills, such as technology, healthcare, and finance.

Provides flexibility:

eLearning allows employees to learn at their own pace and on their own schedule. This flexibility of self-paced eLearning can be especially helpful for employees with busy schedules or those who work remotely. This can be particularly appealing to employees who value work-life balance and may be more likely to stay with an organization that supports their personal and professional goals.

Improves collaboration:

eLearning platforms often provide opportunities for collaboration and knowledge-sharing among employees. This can improve communication and teamwork within the organization.

Demonstrates a commitment to excellence:

A strong eLearning culture demonstrates that the organization is committed to excellence and continuous improvement of its employees. This can be attractive to potential employees and can help to enhance the organization's reputation in the industry.
Here, we've stated only a few of the many reasons why your organization needs an eLearning platform.
Alongside creating an employee-nurturing environment, implementing an eLearning platform has many more undeniable benefits.
Moreover, an eLearning platform enables the tracking and analysis of learner progress. Through built-in analytics, you can monitor the performance of individual learners or groups, identify knowledge gaps, and tailor future training accordingly. This data-driven approach empowers organizations to make informed decisions about their training strategies, ultimately improving the overall learning outcomes.
Additionally, an eLearning platform fosters a culture of continuous learning. By providing a centralized hub for courses and resources, you encourage employees to take ownership of their professional development and engage in lifelong learning. This dedication to ongoing education not only enhances individual skills but also contributes to the growth and success of the organization as a whole.
Summing Up
In conclusion, investing in an eLearning platform for your organization is a strategic decision that yields numerous benefits. From flexibility and cost-effectiveness to personalized learning and continuous improvement, the advantages are clear. By harnessing the power of technology and embracing digital learning, you can empower your employees or learners to thrive in an ever-evolving professional landscape, while positioning your organization as a leader in modern, innovative education.
Embrace the future of learning and take the first step towards unlocking the full potential of your organization with SkillStone. We serve as the right hand to organizations when it comes to training and e-learning. To keep our learners on top of the competition, SkillStone has curated a diverse array of courses that are spread across multiple technologies.
Speak to our specialists and get an insight into what SkillStone can do for you and your organization's growth. Reach out to us at support@skillstone.in or speak to us directly on +919914843366. We look forward to hearing from you!